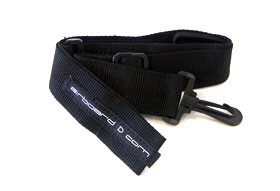 Product information "airboard Tragriemen"
Related links to "airboard Tragriemen"
airboard ist eine schweizer Firma, welche einen leichten und äusserst strapazierbaren Schneegleiter aus hochwertigen kunststoffbeschichteten Textilien herstellt. Das airboard wird auch als Bodyboard für den Schnee bezeichne, denn du kannst im Schnee auf einem Luftkissen gleiten, das durch deine Gewichtsverlagerung gesteuert wird. Zudem hat airbord sein Angebot mit aufblasbaren SUPs (Stand-Up-Paddles) ausgebaut.
airboard ist eine nachhaltige Produktion wichtig und so führen sie Reparaturen und das Recycling nicht mehr gebrauchter Produkte lokal durch. Die airboards werden nach ihrem Lebenszyklus zu 100 % wiederverwertet und zu modischen Taschen verarbeitet. Zusätzlich wird bei den SUPs sowohl bei Verpackung, als auch bei den Transporttaschen auf recykliertes Material zurückgegriffen.
Useful Links to "airboard Tragriemen"