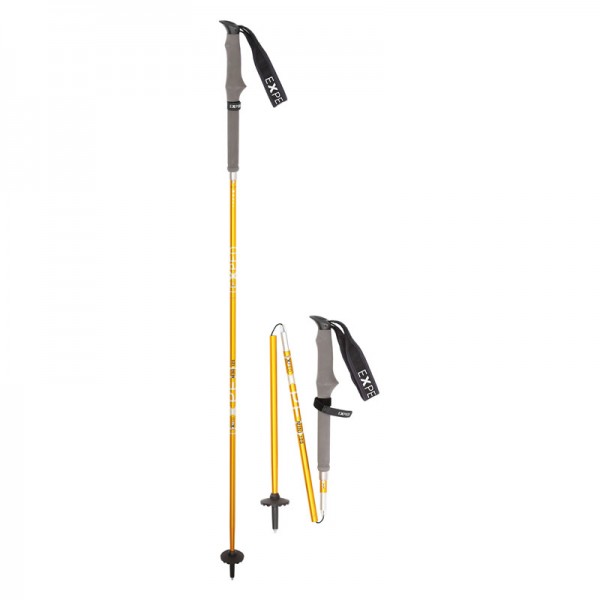 Article no.:

7640147764941

EAN:

7640147764941

RRP:

CHF 154.00
Highlights der perfekte Reisestock super kompakt gefaltet inkl. Summerbasket
more
Product information "EXPED Mini 125 Trekking Poles/Trekking-Stöcke"
Highlights
der perfekte Reisestock
super kompakt gefaltet
inkl. Summerbasket
Related links to "EXPED Mini 125 Trekking Poles/Trekking-Stöcke"
Die Grundidee von EXPED
Das maximale Naturerlebnis mit minimalen Mitteln. Denn die Natur mit all ihren faszinierenden Elementen lässt sich am eindrücklichsten erleben, indem wir nur mit der wirklich notwendigen, dabei funktional durchdachten Ausrüstung unterwegs sind.
Mission
EXPED entwickelt leistungsstarkes Outdoor-Equipment, das dir uneingeschränkt Naturerlebnisse ermöglicht – ob deine Expedition dich in den nächstgelegenen Wald, in tropische Landschaften, ins höchste Gebirge oder auf herausfordernde Gewässer führt: zum Trekken, Bergsteigen, Wandern und Globetrotten.
Die Expertise
Hinter den Ideen der Produkte von EXPED stehen die unterschiedlichsten Naturerfahrungen des aktiven Teams und diejenigen anspruchsvoller Expeditionisten. Die vertiefte Auseinandersetzung mit den spezifischen Anforderungen von Menschen, die in der Natur unterwegs sind, inspiriert EXPED zu höchst funktionstüchtigem Equipment. Jede Idee ist durchlebt.
Die Details
Nach dem Grundsatz "weniger ist mehr" entwickelt EXPED Ausrüstung, deren Ausgestaltung und Extras zu hundert Prozent auf den Einsatz in der Natur abgestimmt sind. Raffinierte Details erhöhen die Funktionalität und den Comfort der Produkte unter Einsatz minimalster Mittel. Jedes Extra ist durchleuchtet und durchdacht.
Die Entdeckungsfreude
Unermüdlich ist EXPED auf Forschungsreise für besseres Outdoor-Equipment. Das sind Expeditionen ins Unbekannte, die zu echten Innovationen führen. Dabei stellt EXPED Konventionen der Branche in Frage und sucht neuartige Wege, um unter dem Einsatz erprobter Fertigungstechniken und Materialien zu überraschend einfachen aber einsatzstarken Produkten zu gelangen.
Nachhaltigkeit der Produkte
Die Produkte sollen so lange wie möglich halten.
Grundvoraussetzung sind da hochwertigste Komponenten z.B. Stoffe und Produktionsverfahren einzusetzen. Klar ist, dass EXPED wo immer möglich, die öklologischste Variante sucht. Doch salopp gesagt, ist die Outdoor-Branche noch immer eine Zweigbranche der Öl-Industrie. Denn vielfach sind auf Öl basierende Produkte noch immer am langlebigsten, während naturbasierende zwar grüner sind, aber wesentlich kurzlebiger. Hier die richtige Balance zu finden, heisst für EXPED ständig nach nachhaltigeren Alternativen zu forschen und diese einzusetzen. So ist für inzwischen klar, dass für Schlafsäcke Daunen die beste Option ist, weil es unter anderem diem nachhaltigste Isolation ist. Dabei wird natürlich auch auf tiergerechte Produktion (keine Lebermast, kein quälerischer Lebendrupf) geachtet.
Standards wie Bluesign, Ökotex etc. sind in vielen Komponenten und Produkten eingehalten. Denn da gibts, siehe oben, fast nie 100% richtig oder falsch. Da wir unsere Produkte selbst stark brauchen, versuchen wir die beste Balance zu finden.
Nachhaltigkeit der Beziehungen
EXPED nimmt die soziale Verantwortung ernst. Die Kontraktfabriken sind Partner, typischerweise seit über 10 Jahren. Nur so kann Qualität entstehen. Auch die Händler sind Partner, nur so kann Beratungsqualität für dich, den Endnutzer gedeihen. Du der Endnutzer sehen wir als Partner. Nur so entsteht das notwendige Vertrauen.
Swissness heisst tüfteln und perfektionieren
Dieses kleine Land inmitten Europas, angeflanscht an die Hänge der Alpen, beherbergt sonderbare Leute. Es mag wohl an den langen Wintern, den 4 verschiedenen Kulturen oder den steilen Tälern liegen: da gedeihen manch verquere Ideen, die sich als verblüffend einfach und trotzdem vielseitig herausstellen. Hinzu kommt die verbissene Detailfixierung und so kommt dann mitunter ein ausgefeiltes Produkt heraus.
Useful Links to "EXPED Mini 125 Trekking Poles/Trekking-Stöcke"